On October 21, hundreds of students from around the world gathered on the South Side of Chicago to put their commitments to service and volunteerism into practice. From painting a mural with a local artist to preparing craft kits for museum school groups to packaging 77,000 meals bound for developing countries, students furthered their resolve to build more just communities.
"At UChicago, we believe civic engagement is an important component in tackling complex challenges in the community, in Chicago and beyond," said Derek Douglas, Vice President for Civic Engagement and External Affairs. "Student civic engagement is a top priority at the University and, every year, more and more students participate in social impact work."
Sunday's Day of Action was the culmination of the 11th annual Clinton Global Initiative University (CGI U) meeting, which connected experts with the next generation of leaders. Hosted by the University of Chicago from October 19-21, it facilitated discussions to develop innovative solutions to pressing challenges across five focus areas - education, environment and climate change, poverty alleviation, peace and human rights, and public health. With over 1,000 students from 80 countries participating in the event—151 of them representing UChicago—it was the largest gathering of student social entrepreneurs in the world.
As the capstone to the weekend, students participated in service projects proposed by one of nine local community partners. Before splitting off to their assigned sites, they convened at XS Tennis and Education Foundation in Washington Park to hear remarks by Chelsea Clinton, vice chair of the Clinton Foundation, and Chicago Mayor Rahm Emanuel.
"We believe that gratitude can't only be rhetoric. It has to be action," Clinton said to the more than 600 students who chose to participate in the Day of Action.
Derek Douglas kicks off the Day of Action at XS Tennis in Washington Park.
"You don't have to run for office to do public service," added Mayor Emanuel. "One person with a vision and self-will can take what was barren and empty and can create doors of opportunities for the future. That is the power of civic engagement."
"THESE PASSIONATE STUDENTS HAVE A GREAT DEAL TO CONTRIBUTE AND IT WAS INSPIRING TO SEE THEM IN ACTION TODAY."
DEREK DOUGLAS, VICE PRESIDENT FOR CIVIC ENGAGEMENT AND EXTERNAL AFFAIRS
Sean Hu and Nuhamin Tekie were two of 300 students who assembled meals with Rise Against Hunger. "I"ve been able to meet people from all over the world," said Hu, a second year in the College. "I feel like I'm part of something far bigger than myself, on an international scale"
Tekie, a College first year, formed many charity clubs at her high school in Ethiopia. "Civic engagement is necessary to maintain humanity. It's a way to be well-balanced, healthy and show gratitude," she said.
College third year Maria Snaider, who helped students at Dyett High School paint murals in their school, said it's important to be an inclusive member of your group, so that everyone feels welcomed, safe, healthy and happy. "That idea will challenge how I make my reality every day," she said. "We learned about Bronzeville and Chicago Public Schools before starting the art project, which grounded our work in the economic, social and political underpinnings of the neighborhood. This was a great example of inclusive tribalism that was extended to us, a group of strangers."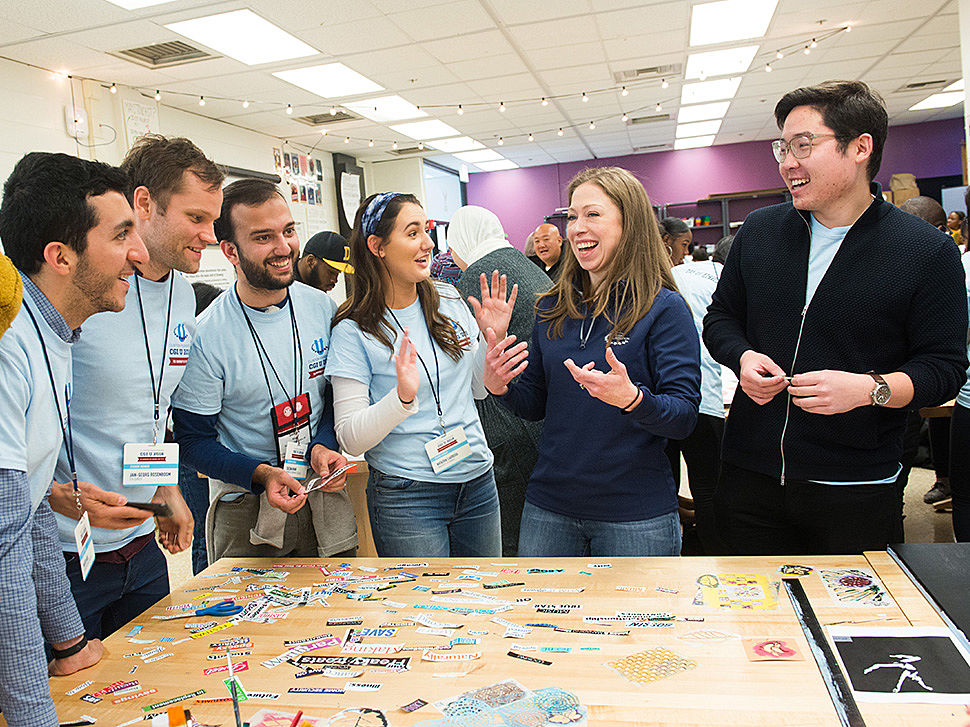 Chelsea Clinton (second from right) engages with CGI U students working on a service project at Dyett High School.
Other community partners were Burke Elementary School, Chicago Youth Programs, Coppin Community Center, DuSable Museum of African American History, KLEO Community Family Life Center, Sweet Water Foundation, and the University of Chicago Arts + Public Life Arts Incubator.
The UChicago Office of Civic Engagement, which aims to be a bridge between the University and its surrounding community, was instrumental in planning the Day of Action. Staff selected the participating community partners and helped review student applicants to the CGI U event. OCE will also lead a follow-up meeting and will coordinate advising opportunities for participating students with a cross-university group.
"At the CGI U Day of Action, we saw the exchange of ideas and opportunities lead to action and impact as students from around the world worked together to support nonprofit organizations on Chicago's South Side," said Douglas. "These passionate students have a great deal to contribute and it was inspiring to see them in action today."
By Megan E. Doherty
Photos by Jean Lachat